E-mail: tony@thecloudgallery.org
Presently Living in South Grafton, N.S.W Australia.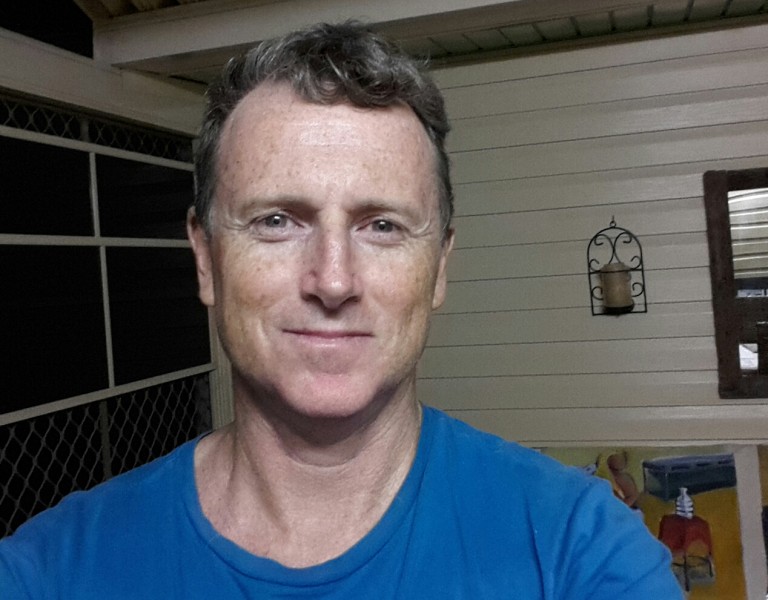 As an artist, expressing my vision of self discovery and spiritual awakening is what I endeavour to do. Along with questioning perceptions and beliefs about the world and a self that seems separate in that world. I use the over simplified figure (the everybody) to represent the Self as archetype. This figure will also act as witness, projector/creator and sometimes as a passive, compositional device. My art is a way of exploring and expressing, what ultimately isn't for the mainstream, a vision of reality unbound by the constraints of time, space and a body identity. I have been influenced by 'A Course In Miracles', and the artistry of Klee, Kandinsky and Af Klint.
A Need to Visualise
My earliest recollections of drawing are on my bedroom walls, detailed pencil drawings of eyeballs and surreal landscapes, which I was later made to clean off. I often "see" things in my mind very clearly yet haven't always been great at rendering that vision, to the detail at which I see it. After my spiritual awakening I found the act of drawing to be far too cumbersome as a medium of communicating, yet after nearly 20 years of teaching A Course In Miracles, around the world, I have returned to Australia to once again attempt to express a spiritual solution through art. It is important to me to be able to break down images into as simple a form as possible, without going completely into abstraction. I was attracted to the digital medium because of the "pressure sensitive" ability of the modern tablets, which I find easy to work with, very forgiving and adaptable in regards to adding sound or even motion to a body of work.
2020
BA of Fine Art - Curtin University
Breimba Lane Exhibition - Plunge Festival
Started The Society of Spiritual Artists' Forum.
2019
BA of Fine Art. Check out some of the Visual Diaries from my studies.
2018
Enrolled in the Bachelor of Arts (Fine Art).
First Solo show at a small gallery at Artspace on 45 Coramba, N.S.W. A big thank you to Meg and Matt!
2017
Started the Advanced Diploma of Visual Art.
2016
Started the year with 3 works using the butterfly to symbolise spiritual transformation.
Doing the 2nd year of the Diploma of Visual Arts at Coffs Harbour TAFE.
Have started building my own stretchers, using "Golden Rectangle" ratios. Experimenting with making my own Gesso. Having a blast designing work around principles of dynamic symmetry.
Graduated with Distinction. Received a TAFE Award of Excellence.
2015
Enrolled in the Diploma of Visual Arts at Coffs Harbour TAFE. I am completely immersed in Paul Klees' NOTEBOOKS VOL. 1&2. And also Kandinskys "Concerning The Spiritual In Art" a wonderful read and both are having a great effect on me and my work. Over the course of this year I painted around 15 or so paintings, many digital drawings and works on paper, along with a few sculptures and photographs.
Reading "The Spiritual In Art - Abstract Painting - 1890-1985". Wonderful articles, amazing information and fascinating artwork.
Started a new series of artwork 1600mm square on linen. The idea that has been percolating since Christmas. The series is called "The Hum of Eternity", and has a sound component, which is an attempt to bring sound to painting, yet done in such a way that most people will not recognize. It comes from this section of text from A Course In Miracles.
Finished Advanced Diploma of Visual Art
2014
I have started this website (https://thecloudgallery.org ) in an effort to work again as an artist and with other artists. Showing my work and sharing my vision. I want my artwork to express my transformation and explore how we see and what we think Reality is. It isn't a new idea, to want to express what many say is inexpressible, but that is my goal. The inspiration that drives my work is deep within each and every one of us and simply needs to be listened to and Trusted.
1998
Having become disenchanted as an artist, along with the art industry in general, I left Sydney looking for "something else". Shortly afterwards I came across A Course In Miracles, which took me to America and a Journey that continues to this day. I underwent a spiritual awakening experience that completely transformed the way I see myself and the world. This transformative process stripped me of everything that was not True and gave me back everything I thought I had to give up. Nearly 20 years later I now find myself, back in Australia with my wife, a new vision and a renewed passion for Art.
1990's
I worked for the Museum of Contemporary Art and the Grafton Regional Gallery. As well as helping with shows at The Sherman Gallery and The Art Gallery Of N.S.W. Continuing to draw and paint whenever possible, I have produced one off works in different mediums, usually paintings, ever since leaving art school. Most of the paintings and artwork from this period, belong to my family and friends
.
Late 1980's
Restless, I moved around Australia, living in different places and working at a bunch of odd jobs. I had seen some things in Sydney that really had me questioning the way things are and my place and purpose in all of it.
1986
Graduated from EAST SYDNEY TECH COLLEGE (National Art School) Fine Arts Certificate – Credit Grade.
---